OXFORD INDIE BOOK FAIR
NOVEMBER 2023
Booking is now closed for exhibitors for this event.
Welcome to the exhibitor centre. Here, you will find all the information you need to successfully exhibit at the event.
Please take the time to read the information and instructions on this page to help you set up on the day.
We will update this page on a regular basis, so please do come back regularly to check details.
If you are subscibed to our newsletter, then we will keep you up to date about any important changes.
Information for Exhibitors
EVENT LOCATION: Oxford Examination Schools. Oxford OX1 4BG
EVENT DATE: Sunday 26 November 2023
OPEN FOR SETUP: 9am
DOORS OPEN TO PUBLIC: 11am
DOORS CLOSE TO PUBLIC: 4:30pm
EXHIBITORS TO VACATE BY: 5pm
Regular tables: 36 Large tables: 34 (see photo below for scale)
If you have any questions or need help on the day then our team member Shona Nicholson will be on hand to assist. We also have a number of Oxford Brookes student voulenteers to help out.
---
Badges
This year, we're going one step better than putting out tickets on the tables to help identify your spot. We're putting out name badges with lanyards to wear if you like. It'll help people recognise you.
The lanyards are colour coded; the RED lanyards will be worn by organisers or volunteer helpers who can assist you on the day.
Loading, Unloading, Travel
You can unload quickly at the front of the building or if you need a little longer, in the courtyard behind the Examination Schools. (Entrance on Merton Street) . After unloading you will need to move your car right away to make space for others who will be waiting to set up.
The venue have SIX trollys that can be used to transport materials around.
There is a car park at the Plain and it is possible to park for free at Oxford Brookes on a Sunday.
If you are not familiar with Oxford and come by car make sure you approach from the Plain (East Oxford / London Road / Iffley Road ) because there is a bus gate 100 yards from the Examination Hall. After unloading, turn around and go back the way you came. Automatic cameras issue fines for continuing on into the city centre from there, Abingdon Road etc.
Note also, that there is NO ACCESS to the city via Botley road as it is closed at the train station for extensive works. Do not exit the A34 at the Botley Interchange, instead use the next one south at Hinkey Hill (ring road) where you will find a park and ride. To continue into Oxford, Turn right at the lights at the Tesco Metro then left along Iffley Road.
The London buses and Park and Ride buses stop almost outside the Examination Schools.
Parking
There is no public or exhibitor parking at the venue.
Table Setup
There will be a limited amount of time for table setup, so please plan your layout carefully. The approximate table sizes are as follows:
REGULAR: 4.5ft (comprising 3 exam tables)
LARGE: 6ft (comprising 4 exam tables)
Below is an example of the large table with A4 paper for scale. The regular sized table is THREE wide.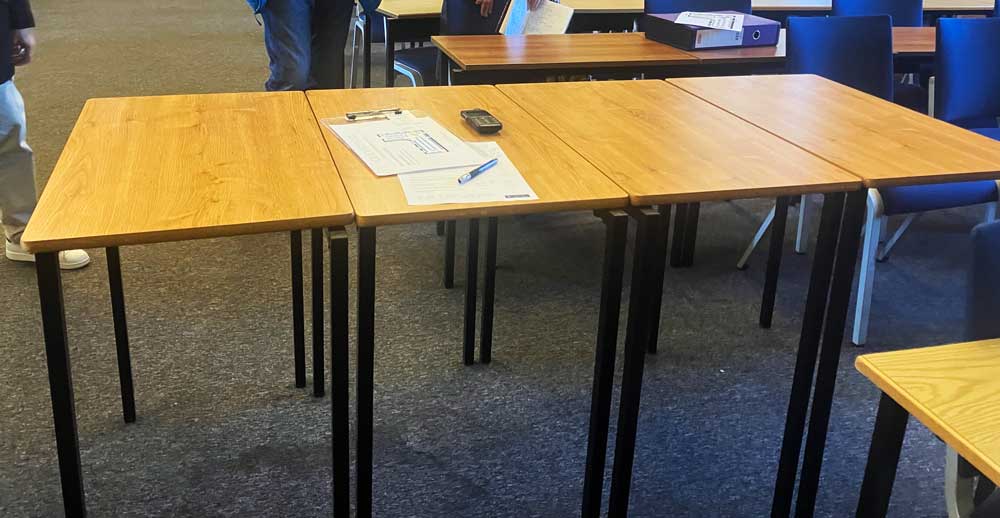 We strongly recommend using a cloth or table covering to improve the appearance of the table for your exhibit.
Breakdown
TBC
Venue Rules
Here are some important venue rules which ALL exhibitors must comply with for safety and protection of the building. There will be venue staff present throughout the day to help everyone, and they will advise and if necessary enforce these rules (which may result in the extreme case of non compliant exhibitors being expelled by security – this is outside our control and no refunds will be issued in such cases)
Power
There are plenty of wall sockets located around the walls and are availible ONLY to the outer ring of tables. The central rings of tables do NOT have access to power. Please share these sensibly with other exhibitors.
Please bring a suitably rated extension lead to run from the wall behind you to your table. We cannot supply extension leads. Ensure that your lead is run to avoid tripping by yourselves and fellow exhibitors.
ALL devices connected to the mains supply MUST be PAT TESTED and acompanied by the relevant certificate. The venue are able to test equipment on-site for a small fee (£20). Please contact a member of staff before plugging in. It is YOUR responsibility to ensure that this is done. Venue staff may check equipment and ask you to unplug anything which does not comply.
WIFI
The venue has WiFi throughout which can be used for your ePOS systems etc.
The netwok name is ExamSchWifi
We can't be responsible for the quality or continuity of the connection but will endevor to let the venue owners know if there are any problems. It would be wise to have a backup plan for your ePOS such as WiFi hotspot from your mobile phone to card reader in case of problems. The venue has a technician on-site all day who may be able to help in the event of a problem. The will likely be found at the sound mixing desk.
Social Media
Make sure you Tweet to us at @OxIndieBookFair
You'll find us on Twitter at https://twitter.com/OxIndieBookFair
Also send posts of the event throughout the day and the time leading up to and after the event. We will have a small team in helping to promote the event on Twitter and other social media platforms. Make sure you folllow us, retweet and get involved with the conversation to help grow awareness.
Use the hashtag: #OxIndieBookFair
Right-click and save the social media adverts to use on Facebook, Twitter, Instagram etc.
Or download them as a ZIP file by clicking the download button. (updated 2-Nov-2023)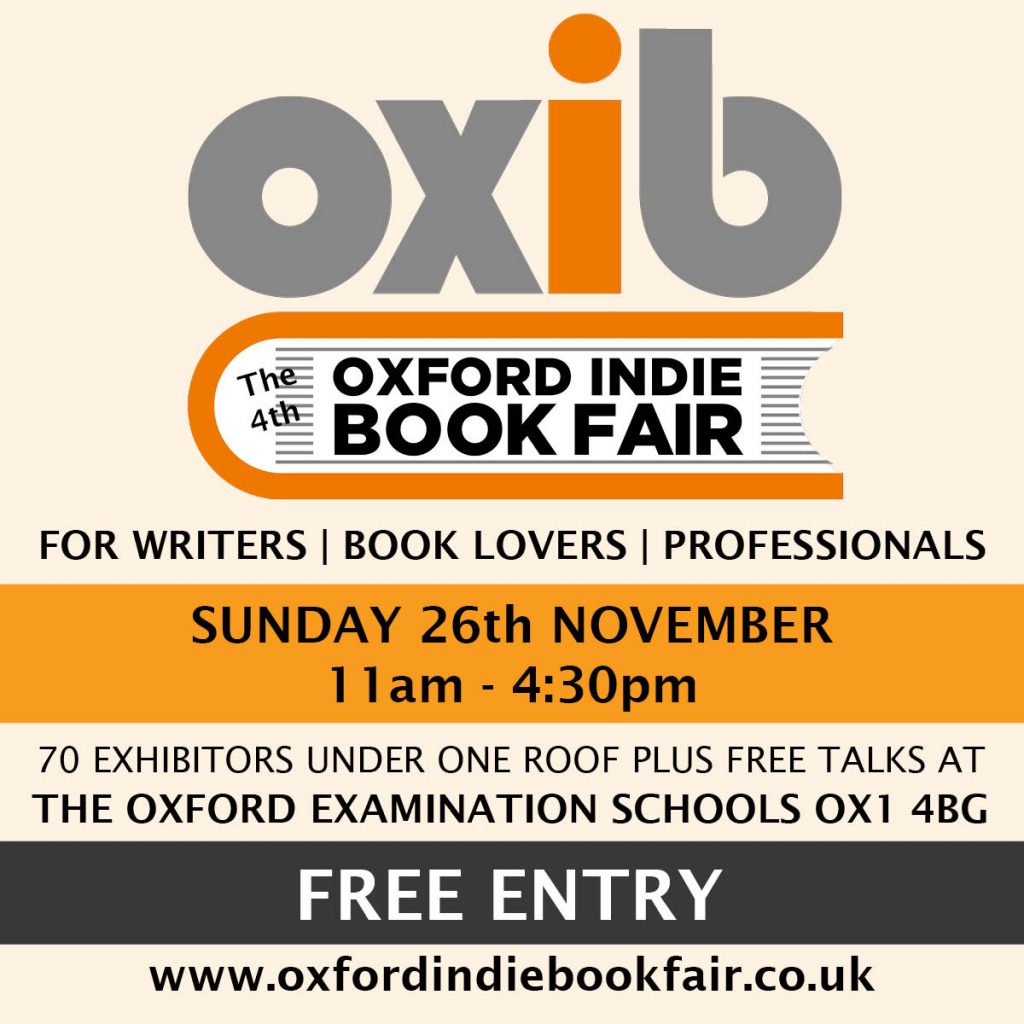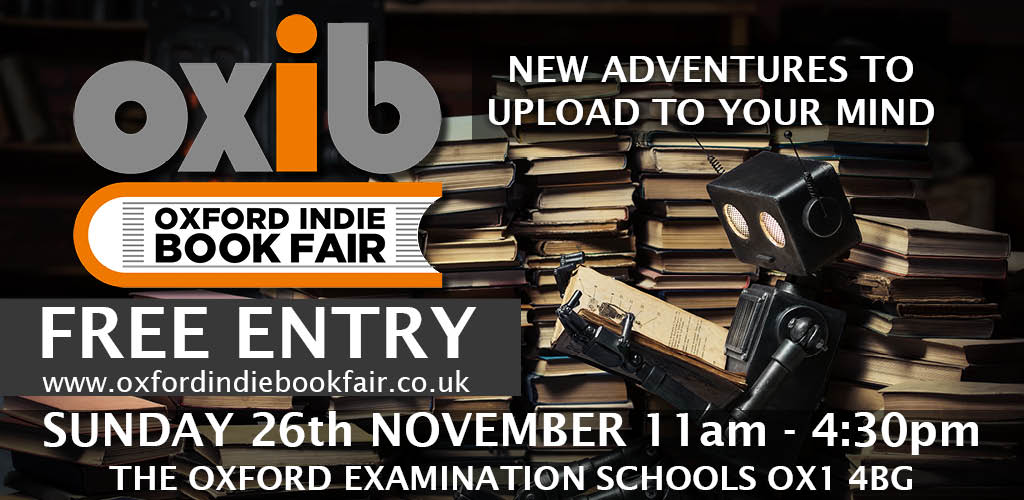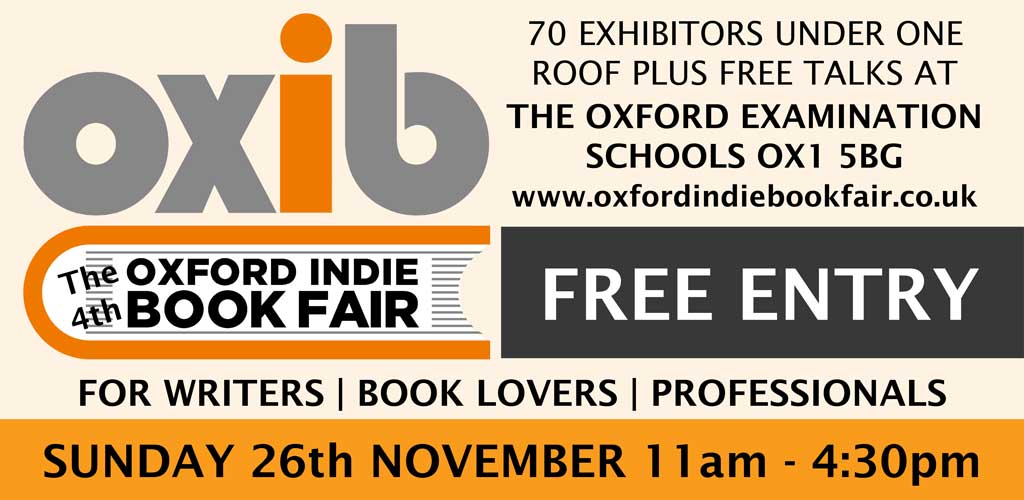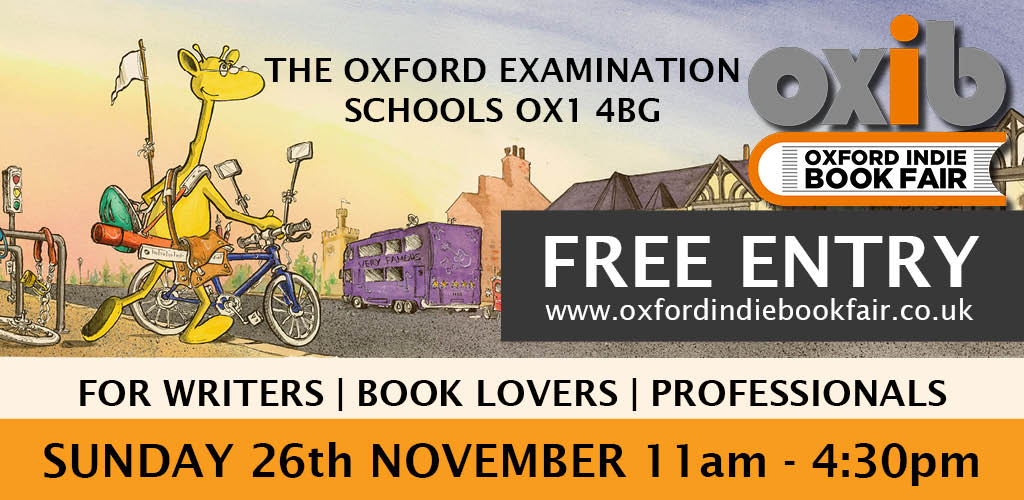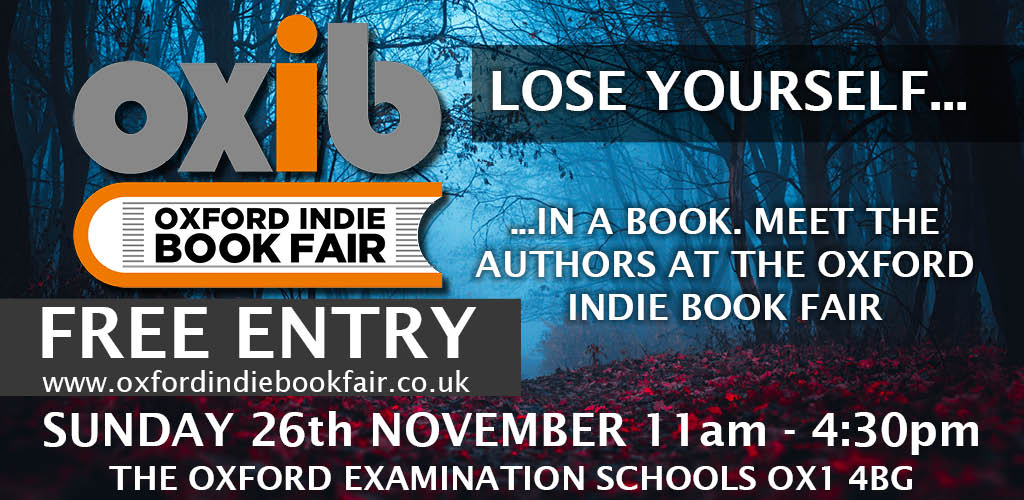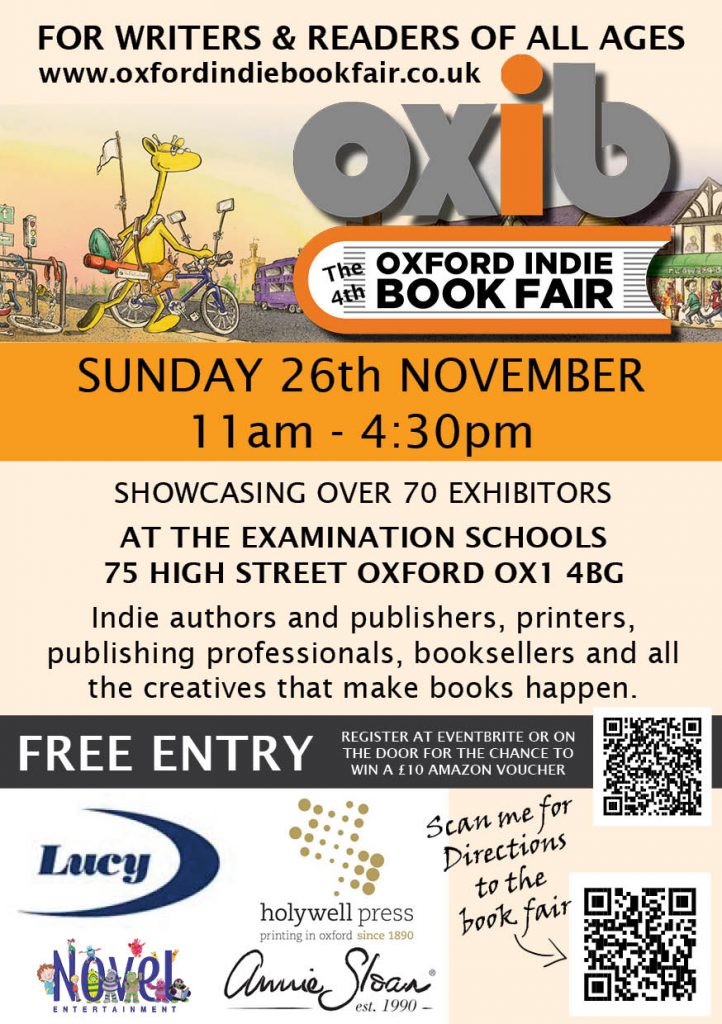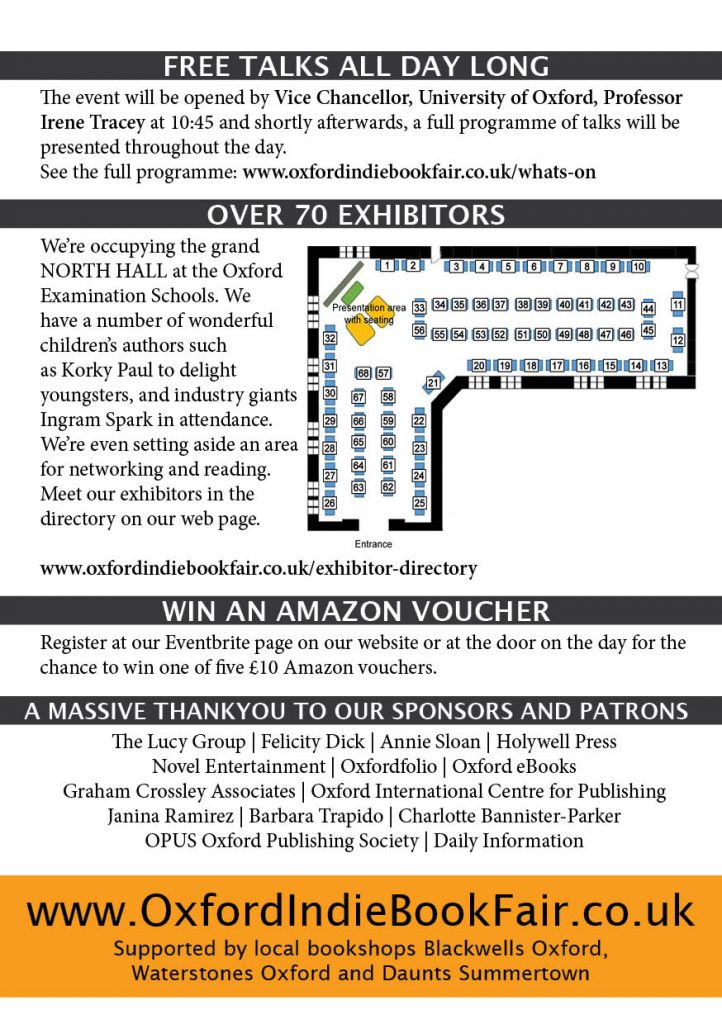 A big thanks to exhibitor Mario Coelho for the giraffe illustrations in the social media graphics.
We'll add more items soon, such as flyers, posters etc, so do check back here.
Some useful links to add to your posts:
EVENTBRITE PAGE: www.eventbrite.com/e/the-oxford-indie-book-fair-2023-tickets-737000326817
BOOK FAIR WBSITE: www.oxfordindiebookfair.co.uk
Booking
General booking of tables is now closed.
Bookings are accepted by purchasing a pass through this website only. Please do NOT send money unless you have a proper link to buy a November 2023 exhibitors pass or your reservation may not be made.
Cancellations / refunds cannot be accepted within 1 week of the event. Refunds cannot be made for no-show on the day or for event cancellation outside our control (eg: emergency with location).
Once you have made your booking, you will be able to edit your own profile information which appears on the directory listing for the public to see.
Detailed instructions can be found under the "For Exhibitors"" section..
Sub-letting or sharing of tables is not permitted unless explicitly agreed in writing by the organisers. Bookings are non-transferable.
Any persons causing a disturbance or offence to exhibitors, visitors, organisers or venus staff may be asked to leave the event and may face a ban from exhibiting in the future. Abusive nature of any kind will not be tolerated.
Table Allocations
Here's an up to date schematic of the table booking allocations.
| | | | | | | | |
| --- | --- | --- | --- | --- | --- | --- | --- |
| | regular | | large | | Reserved | | Booked |
| | | | | | | | | | | | | | | | | | | | | | | | | |
| --- | --- | --- | --- | --- | --- | --- | --- | --- | --- | --- | --- | --- | --- | --- | --- | --- | --- | --- | --- | --- | --- | --- | --- | --- |
| | | | | 1 | | 2 | | | 3 | | 4 | | 5 | | 6 | | 7 | | 8 | | 9 | | 10 | |
| | | | | | | | | | | | | | | | | | | | | | | | | |
| | | | | | | | 33 | | 34 | 35 | 36 | 37 | | 38 | 39 | | 40 | 41 | 42 | 43 | | 44 | | 11 |
| 32 | | | | | | | | | | | | | | | | | | | | | | | | |
| | | | | | | | 56 | | 55 | 54 | 53 | 52 | | 51 | 50 | | 49 | 48 | 47 | 46 | | 45 | | 12 |
| 31 | | | | | | | | | | | | | | | | | | | | | | | | |
| | | | | | | | | | 20 | | 19 | | 18 | | 17 | | 16 | | 15 | | 14 | | 13 | |
| 30 | | 68 | | 57 | | | 21 | | | | | | | | | | | | | | | | | |
| | | | | | | | | | | | | | | | | | | | | | | | | |
| 29 | | 67 | | 58 | | 22 | | | | | | | | | | | | | | | | | | |
| | | 66 | | 59 | | | | | | | | | | | | | | | | | | | | |
| 28 | | 65 | | 60 | | 23 | | | | | | | | | | | | | | | | | | |
| | | 64 | | 61 | | | | | | | | | | | | | | | | | | | | |
| 27 | | 63 | | 62 | | 24 | | | | | | | | | | | | | | | | | | |
| | | | | | | | | | | | | | | | | | | | | | | | | |
| 26 | | | | | | 25 | | | | | | | | | | | | | | | | | | |